<< Back to Calendar
3-Day Virtual PDD May 2023 - Future Trends and Skills in Project Management
PMI – VIRTUAL PDD MAY 2023
Registration Last Date: May 8, 2023

Dates and Time 
Day 1 - Wednesday, May 10, 2023 (11:50 a.m. - 1:20 p.m)
Day 2 - Tuesday, May 16, 2023 (11:50 a.m. - 1:20 p.m)
Day 3 - Thursday, May 25, 2023 (11:50 a.m. - 1:20 p.m)


Where: Microsoft Teams 
Agenda on each day
11:50 - 12:00 – Announcements and Introductions
12:00 -1:05 – Presentation
1:05 -1:20 – Comments and Q&A
Presentation Topics: 
Day 1 - Advanced Excel for Project Management
Day 2 - Risk Management for Project Execution
Day 3 - Chat GPT for Project Managers
PMI Talent Triangle:  3.75 PDUs - Ways of Working (For more info, visit PMI.org)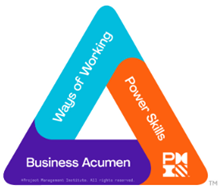 Speakers: 
Day 1 - Mariana Trapnell
Day 2 - Gyanendra Singh
Day 3 - Alisa Kniazeva

Speakers Biographies:  
Mariana Trapnell, President & Chief Excel Geek at Xcellerations
Mariana is a Chartered Professional Accountant and certified 'MS Office Specialist Expert in Excel 2013'.  She has over 20 years of experience playing in Excel, in roles varying from external and internal audit, to operational and financial analysis, and report development and design.  She has taught at the Southern Alberta Institute of Technology, and has trained many co-workers and other students how to use Excel more efficiently.  She loves seeing the 'light-bulb go on' when someone realizes how easy a task can be!
Gyanendra Singh, MBA-Finance, Operation Management, PgMP, PMP, PRINCE 2, MCT, MCTS, MCP, OCS
Gyanendra Singh has 20+ years of Program and project management experience in diversified infrastructure Airports IT Systems, Runway, Roads & Bridges construction, Building Construction & Oil and gas, Coal Mining, and Metro rails including Implementation and use of various PM tools.
Gyanendra has rich experience in conducting training for all levels of middle and senior management, on Project Risk Management, Contract Management, Program Management, Project Management, Primavera Risk Analysis, Primavera, Earned Value Management, EOT, Microsoft Projects and much more subject-related and project. 
He is done more than 1000 training programs for various organizations like  Accenture, KPMG NIIT Ltd, NIIT Technologies, L&T, Lloyd, Oil Institute Dubai, Ooredoo Oman, Omantel Oman, Royal Court Affairs Oman, Yahsat Abhu Dhabi, MOGL Singapore, Greenleaf USA, Doha Qatar,  Oracle university  Bangalore, NBD bank Dubai and many more.
Alisa Kniazeva, Project Manager 
Alisa is a project manager with more than 10 years of experience in the software development industry.
She's worked on startups and big e-commerce projects, managing teams and delivering results across the globe. But her passion lies in something a little more futuristic: AI.
She has always been fascinated by the potential of AI to transform our everyday lives and believes that by embracing this technology, we can unlock new possibilities and creative ways to solve problems.
She's seen firsthand the impact that AI can have on project management, and she's eager to share her insights with others.
In the midst of all the buzz surrounding AI in recent months, Alisa has carved out a unique niche for herself. With her experience in project management and her passion for AI, she's created the first-ever course on ChatGPT dedicated specifically to Project Managers.
Through a combination of in-depth training, practical advice, and real-world examples, Alisa is helping project managers to leverage the latest AI technologies to streamline their workflows, boost their productivity, and achieve better results than ever before.
Presentation Learning Objectives: At the conclusion of this session, attendees will be able to:
Day 1 
Perform faster project spending trend analysis and check for completeness using easy-to-create Pivot Tables

Keep your data clean by setting up pre-defined drop-down lists via Data Validation

Make your project reports more readable by pulling in extra details from other lists using VLOOKUP
Day 2
Examine the best practices for risk management to ensure that projects are completed on schedule, within budget, and to the required level of quality while minimising risk. 
Day 3
Define complicated topics in simple words using ChatGPT.

Use ChatGPT to create project management templates and documentation
Analyze big amounts of data in just seconds with ChatGPT
Investment:
$50/member for all three sessions
$70/non-member for all three sessions
***Contact pddevents@pmisouthsask.org for information on discounted student pricing
It is no longer possible to register for this event