<< Back to Calendar
Day 3 Virtual PDD May 2023 - Future Trends and Skills in Project Management
PMI – VIRTUAL PDD MAY 2023
Registration Last Date: May 23, 2023

Date: Thursday, May 25, 2023
Time: 11:50 a.m. - 1:20 p.m

Where: Microsoft Teams 
Agenda
11:50 - 12:00 – Announcements and Introductions
12:00 -1:05 – Presentation
1:05 -1:20 – Comments and Q&A
Presentation Topic: Chat GPT for Project Managers
PMI Talent Triangle:  1.25 PDUs - Ways of Working (For more info, visit PMI.org)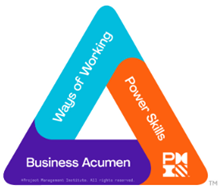 Speaker: Alisa Kniazeva
Speaker Biography: Alisa is a project manager with more than 10 years of experience in the software development industry.
She's worked on startups and big e-commerce projects, managing teams and delivering results across the globe. But her passion lies in something a little more futuristic: AI.
She has always been fascinated by the potential of AI to transform our everyday lives and believes that by embracing this technology, we can unlock new possibilities and creative ways to solve problems.
She's seen firsthand the impact that AI can have on project management, and she's eager to share her insights with others.
In the midst of all the buzz surrounding AI in recent months, Alisa has carved out a unique niche for herself. With her experience in project management and her passion for AI, she's created the first-ever course on ChatGPT dedicated specifically to Project Managers.
Through a combination of in-depth training, practical advice, and real-world examples, Alisa is helping project managers to leverage the latest AI technologies to streamline their workflows, boost their productivity, and achieve better results than ever before.
Presentation Learning Objectives: At the conclusion of this session, attendees will be able to:
Define complicated topics in simple words using ChatGPT.

Use ChatGPT to create project management templates and documentation
Analyze big amounts of data in just seconds with ChatGPT
Investment:
$25/member for individual sessions or $50/member for all three sessions (register here for bulk discount)
$35/non-member for individual sessions or $70/non-member for all three sessions (register here for bulk discount)
***Contact pddevents@pmisouthsask.org for information on discounted student pricing
It is no longer possible to register for this event